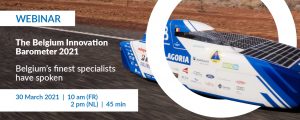 Ayming Belgium is proud to have presented the Belgium Innovation Barometer 2021 during a webinar on Tuesday March 30th.
The Barometer is a unique collection of inspired insights on current R&D in Belgium by our country's top leaders in innovation from all backgrounds : academic, think tanks, business, associations, consultancy, clusters, social networks…
(Re)watch the webinar
How affected are we by the crisis, was it really all that bad, and where do we go from here? Where do we stand on sustainable innovation? How will new generations reinvent capitalism? How do our regions compare? What are innovators asking from our new government? Are tax audits discouraging innovation?…
Discover our speakers' thoughts, observations and predictions during this webinar, as we have invited a few of them for a lively exchange and a sneak peek for you about the many conclusions gathered in the Barometer, which you will receive before it is officially published.
Agenda
The Belgian innovation landscape
Sustainable innovation
R&D budgets
The financing of innovation
Tax audits