The 2020 edition of The Benchmark is available!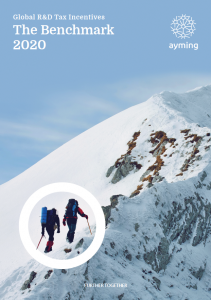 The Benchmark is a tool developed by Ayming's international R&D consulting team giving you a clear and concise overview of the most important R&D tax incentives in the world. It is based on two central themes (the Generosity of the scheme and the Administrative Ease), gives details about the incentives for each of the 15 countries considered (including Germany and its new R&D tax incentive scheme, which is being finalized and will be retroactive to January 1st, 2020) and compares them against comparable data to create an international ranking, in the form of a graph showing you a global overview at a glance.
One R&D tax system is not like the other; there is a multitude of legislation, interpretations and regulations to consider in order to make a comparison. Ayming's different teams of R&D consultants have in-depth knowledge of local R&D tax regimes. It is this expertise that we have used to formulate a series of hypotheses and provide a comparative grid that is both relevant and intelligible.
Download the full report by filling in the form on the right or try the tool online.