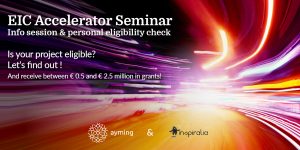 EIC Accelerator Seminar
If you are an SME with disrupting innovative projects, in a prototyping or testing phase, and ambition to push international boundaries, then the European grant EIC Accelerator (previously known as SME Instrument) can help you accelerate your growth!
We are happy to invite you to our EIC Accelerator Seminar, organised together with Inspiralia, on Tuesday December 10, 2019 from 2pm until 5pm at Greenhouse in Machelen.
Why you shouldn't miss this opportunity? To find out all about:
• The kind of projects the EIC Accelerator can financially support;
• The amounts that can be granted, depending on the stage of your project, between € 0.5 and € 2.5 million;
• The key factors for a successful application process;
• The potential eligibility of your projects, thanks to a personalised eligibility check.
So make sure you subscribe now, as seating is limited!
Agenda
13h30 Welcome
14h00 EIC Accelerator – Funding Opportunities
15h00 Are you eligible?
16h30 Drink
17h00 End
Venue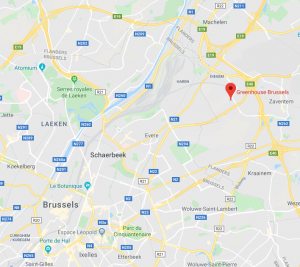 Greenhouse
Berkenlaan 8A + 8B
1831 Machelen
Directions
Read more about the EIC Accelerator grant